May is National Bike Safety month and in honor, we are going to talk about being safe while riding.
Did you know that the number one way to be safe is to simply wear a properly fitted bike helmet? Despite being such a simple safety measure, many people still do not wear helmets.  In 2019, over 840 bicyclists died on US roadways and 40 of those were cyclists ages 14 years old and younger. In 2019, 88% of cyclists 16 years old and younger who were injured during a bike accident were not wearing bike helmets.
While some states and counties have laws in place regarding helmet use, there is no federal law is the U.S. that requires bicycle helmets. Maryland's Bike Helmet Law says riders under the age of 16 must wear a helmet, while Montgomery County sets the age at 18 or younger.  It is important for adults to be good examples, by wearing their helmet and talking to their kids about the importance of wearing a helmet.
Why don't kids wear helmets? Maybe it is because they are "too cool," or perhaps they think they are "expert riders."  I often remind kids (and adults) that if the expert bike riders wear them, perhaps we should too!  I also often remind families that while we can heal broken bones, we only get one brain and we need to do everything possible to prevent a brain injury … by wearing a helmet!
Buy a helmet. Fit a helmet. Wear a helmet… every ride! A helmet should fit properly. Follow these 6 steps to proper helmet fit:
Size

– find a helmet that fits the size of your head.

Position

– helmet rim should be a least 2 finger widths above your eyebrow.

Side Straps

– adjust the straps on both sides to form a "V" around your ears.

Buckles

– center the buckle.

Chin Strap

– tighten the strap so 2 fingers can fit between the strap and chin.

Final Fit Test

– shake your head… does your helmet move? If it does, adjust where needed.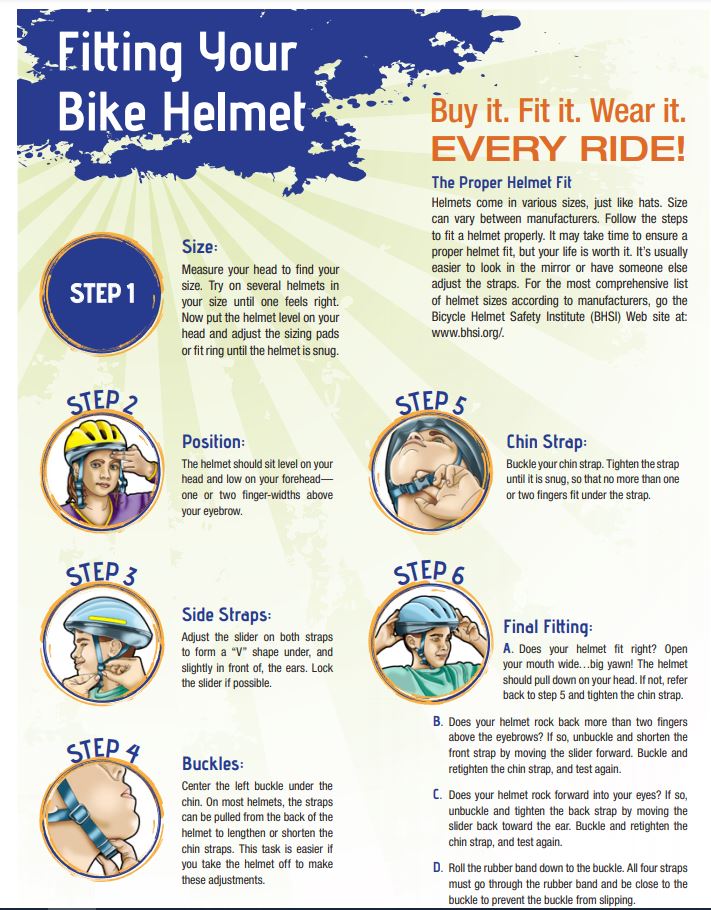 In addition to wearing a helmet, it is important for kids and families to follow of safety measures when riding a bike:
Only ride on a

safe bike path

. Often kids will ride in front of homes, which means on busy neighborhood streets.
Make sure to

wear bright, tight fitting clothing

. Wearing clothes that are bright will catch the attention of others and wearing fitted clothes prevents loose pants and shirts from getting stuck in the bike chains and wheels
Make sure your

bike is fit for riding

. Routinely check your bike to make sure the tires are correctly inflated, the breaks work, the chain is free from rust and debris and that the handles and seat are tightly secured.

One size bike does not fit all

. Make sure that the person riding the bike is of the appropriate size for the bike.  As children grow, so will their bike and a young child can be injured from riding a bike too big for them.

Let them know you are there

. It is important for bike riders to know proper hand signals to alert other riders, or drivers (for adults) know your plans to turn or change lanes. The use of hand signals, voice alerts, and bells will tell someone you are getting close by.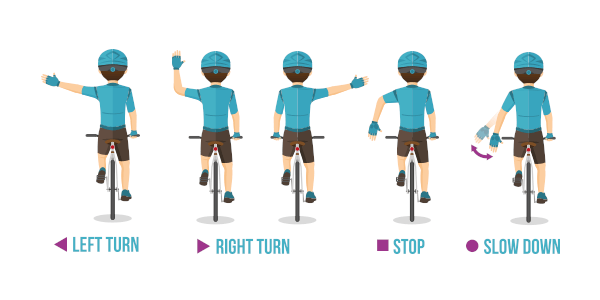 Do not ride distracted

. While listening to music or texting while biking may seem appealing on a warm, sunny day, remember that cellphones can distract you from your surroundings. You may miss a siren, or someone coming up behind you.  Keep your eyes focused and constantly scanning for possible hazards in your way.
Bike riding can be a great family activity, source of physical activity, and way to see new places. It only takes a few minutes of preparation and safety measures to ensure a fun, happy day on the trails. Happy riding and remember…don't forget your helmet!
Blog submitted by:
Kelly Llewellyn, MSN, RN
Injury Prevention/EMS Specialist
Meritus Health
Reference
Bicycle Helmet Safety Institute. (2022). Statistics. https://www.helmets.org/stats.htm