Halloween is a special time of the year, a favorite holiday for many, especially our kids. Halloween marks the time of year when the weather is getting cooler, the leaves are changing colors, days are getting shorter and the candy … lots and lots of candy.
Maryland TraumaNet wants to help you have a fun and safe Halloween, so here are some simple safety tips to keep in mind this Halloween. 
Steps to Stay Safe During Trick-Or-Treating in a Pandemic
Set up a chair and table outside with individually bagged treats for kids to take on Halloween. Avoid direct contact with trick-or-treaters.

Wash your hands before handling treats.

Wear a mask. Make your cloth mask part of your costume.

A costume mask is not a substitute for a cloth mask.

Bring hand sanitizer with you and use it after touching objects or other people.

Stay at least 6 feet away from others who do not live with you.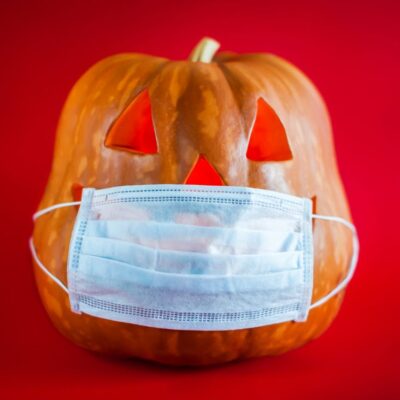 Carving Pumpkins
Always have an adult present during pumpkin carving and keep knives and sharp objects out of a small child's reach. Small children should never carve a pumpkin. 

Kids can draw their Jack-O-Lantern design on their pumpkins and have an adult carve out their design. 

Instead of carving pumpkins, have children use chalk or gel markers to decorate their pumpkins.

Use a small flashlight or glow candles to light your Jack-O-Lanterns, instead of candles.

If you use candles, votive candles are safer than other candles.

Display your pumpkin on a flat, level, stable surface and away from fire hazards (curtains, leaves, etc.). If your pumpkins are outside, do not leave unattended or in walkways.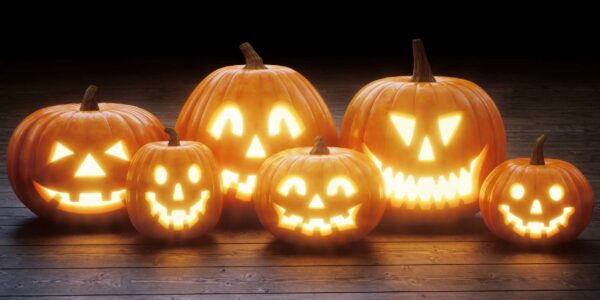 Costumes
All parts of a costume, including accessories, wigs, and masks, should be fire-resistant.

Masks should be the right size, fit securely, and do not obscure or obstruct vision.

Keep costume lengths short so children don't trip on them. Falls are one of the leading accidental injuries on Halloween.

Be seen in the dark by attaching reflective tape to costumes and Trick-or-Treat bags, wearing glow sticks, and using a flashlight

If wearing Halloween make-up, make sure the make-up is non-toxic and test the product on a small area of skin before applying. Remove all make-up before going to bed.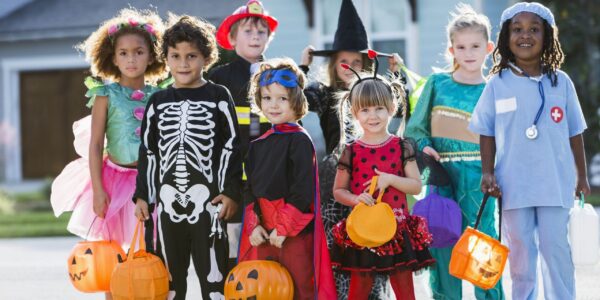 Trick-or-Treating
Young children should always be accompanied by an adult.

Trick-or-Treat in well lit and well known neighborhoods, plan a safe route. 

Bring flashlights or head lamps with fresh batteries.

If your older children are going trick-or-treating alone, plan and review a safe route, agree on a curfew time, send them with a fully-charged cell phone, and review how to call 911 if they have an emergency or feel like they are in danger.

Only go to homes that have their porch light on. Never enter the home or a car of someone offering treats inside.

Everyone should put electronic devices down, keep heads up and walk, don't run, across the street.

Pay attention to your surroundings. If you see something suspicious, call the police immediately.
Because pedestrian injuries are the most common injuries to children on Halloween:
Stay in a group and communicate where you will be going.

Remember reflective tape for costumes and trick-or-treat bags.

Remain on well-lit streets and always use the sidewalk.

If no sidewalk is available, walk at the far edge of the roadway facing traffic.

Never cut across yards or use alleys.

Only cross the street as a group in established crosswalks. Never cross between parked cars or out of driveways.

Don't assume the right of way. Motorists may have trouble seeing Trick-or-Treaters. Just because one car stops, doesn't mean others will.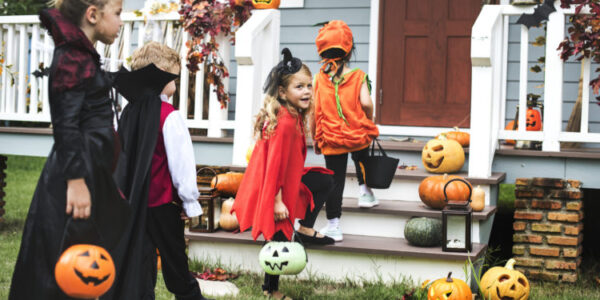 Driver Safety
Use your headlights, even during daylight. It helps trick-or-treaters see you better.

DON'T DRIVE DISTRACTED! Put down your phones and pay attention to your surroundings.

Drive slower than the posted speed limits, especially through neighborhoods. Children are very excited on Halloween and may be running around and distracted.

Scan the road, especially at crosswalks and driveways.

Do not pass stopped cars on the street. They may see children crossing that you can't see or are dropping children off.

Exit driveways and pull onto streets with extreme caution.

If you are celebrating Halloween with alcohol, designate a sober driver, arrange for a taxi or use a ride sharing service.

If you see a drunk or unsafe driver, notify the police.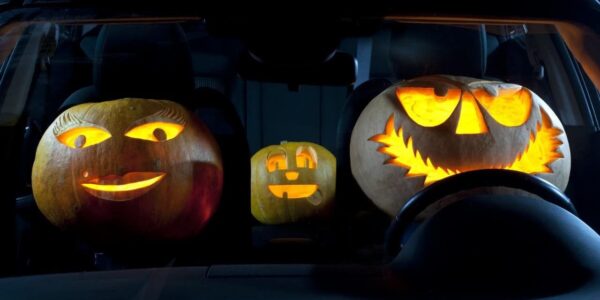 For more Halloween safety tips, click on the buttons below!
Creason Schafer, BS, CHES, CPST
Community Outreach Specialist in Injury Prevention
Johns Hopkins Children's Center
James Gannon MS, RN, CEN
Maryland TraumaNet, Communications Chair
Trauma Program Manager, Sinai Hospital of Baltimore