Tips for Making an Electric Scooter Ride Fun and Safe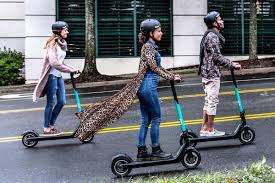 In recent years, electric scooters have grown in popularity as a convenient alternate mode of transportation, with several rental services making them available in urban spaces across Maryland. However, as with any other vehicle, there are a few important things to remember to ensure a smooth ride.
Rider Responsibilities:
The rider assumes full responsibility when agreeing to the Terms of Service for the e-scooter

Read the user manual – learn to operate the e-scooter (practice)

Assure proper functioning of the e-scooter prior to starting

Wear safety gear (helmet, knee, and elbow pads, high visibility jacket)

Ride solo; e-scooters are designed for single riders under 220 lbs.

Never carry anything that can obstruct vision or cause a loss of control of the e-scooter

Follow the local traffic rules, and ride only in designated spaces, following the same rules that would apply to any vehicle

Do not attach the e-scooter to another vehicle

Do not perform stunts; the scooter is not a toy
Injury Prevention Tips When Riding an Electric Scooter:
Wear a helmet geared for e-scooters

Wear high visibility clothing

Single rider only (no children)

The rider must be 18-years-old to ride (per popular companies)

Do not attach or be pulled by another vehicle

Ride with two hands; no cellular phone use or beverage use while riding

Follow traffic laws

Ride in bike lanes when available, and stay off sidewalks at all times

Avoid bumpy surfaces and obstacles such as potholes, grass, gravel, uneven pavements, etc.

Avoid sewers and grates (small tires will fall through)

The rider must be a licensed driver

Park respectfully, out of the way of pedestrians (park at edge of sidewalk)

Check that tires aren't flat before driving, and ensure brakes work

Use hand signals for turning

Do not use headphones; the rider needs to hear the surroundings

Do not ride under the influence of drugs or alcohol

Keep both feet on the deck for stability

Do not ride in wet weather (rain or snow)
Wherever your destination, following these simple rules will help you arrive there safely!
Carole Mays RN, MS
Director, Trauma & Injury Specialty Program
MIEMSS