The Maryland EMS System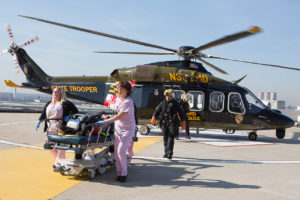 Recognizing the need for improved emergency medical services, Dr. R Adams Cowley opened the first Maryland Trauma Center in 1969 at the University of Maryland Hospital. Through Dr. Cowley's vision and leadership, the Emergency Medical Services Systems Act of 1972 spurred the creation of the EMS/Trauma System in Maryland.
The move was part of a broader national effort of trauma system development driven by a 1966 white paper entitled "Accidental Death and Disability: The Neglected Disease of Modern Society", in which the National Academy of Sciences identified several needs for the improvement of EMS/trauma care – needs which continue to inform today's optimal trauma care:
Training for Emergency Medical Service (EMS) personnel and lay public

Standards for ambulance services

Communications between ambulances and Emergency Departments (EDs)

ED and Intensive Care Unit (ICU) accessibility (24 hours)

Mechanism for categorization of EDs

Development of trauma registries

Formation of hospital trauma committees

Studies on trauma rehabilitation

Replace lay coroners with medical examiners

Autopsy of injured victims

Multiple casualty disaster plans

Research in trauma
Research shows that states with trauma systems in place see drastically reduced death rates. Today, Dr. Cowley's single two-bed trauma center has grown into a statewide network of nine (9) adult trauma centers and two (2) pediatric trauma centers, which, through the integration of EMS, trauma care, rehabilitation, and injury prevention, focus on the expeditious care of patients and the preservation of life and limb whenever possible.
Comprised of five regions across the state, the Maryland EMS System includes both volunteer and career EMS clinicians, medical and nursing personnel, communication, transportation systems, trauma and specialty care centers, and emergency departments. Eighty-five percent (85%) of injured patients are taken to the nearest hospital emergency department (ED); 48 hospitals maintain EDs which are staffed around the clock and equipped to handle most emergency medical problems. The remaining 15% of injured patients are treated at the state's designated trauma centers, which provide advanced medical and surgical services 24 hours a day.
Completing the spectrum of patient care is rehabilitation, which starts as early as possible in the recovery process. Many patients who need extended occupational, physical, and speech therapies are transferred to rehabilitation hospitals to continue their recovery.
Management and Oversight of the Maryland EMS System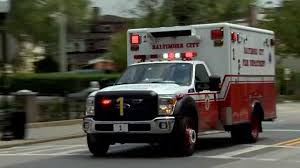 The Maryland Institute for Emergency Medical Services Systems (MIEMSS) oversees and coordinates all components of the statewide EMS system in accordance with Maryland statute and regulation. These efforts include planning, operations, evaluation, and research. MIEMSS also provides leadership and medical direction; conducts and supports EMS educational programs; operates and maintains a statewide communications system; designates trauma and specialty centers; licenses and regulates commercial ambulance services; and participates in EMS-related public education and prevention programs.
Since becoming an independent state agency in 1993, MIEMSS has worked to formalize, through statute and regulation, the administration, regulation, and operation of the Maryland EMS System. Statutory oversight authority rests with the 11-member, Governor-appointed EMS Board, while MIEMSS' Executive Director is statutorily responsible for coordination of all aspects and components of the system. The Statewide EMS Advisory Council (SEMSAC), comprised of representatives from organizations involved in providing emergency care services, also advises and assists the EMS Board.
MIEMSS is organized into departments that reflect the structure necessary to coordinate the statewide EMS system, including:
Maintained by MIEMSS, the EMS Communication System – one of the first such statewide systems in the country – integrates the entire EMS system in Maryland. Utilizing radio and microwave technology, the statewide communication system links ambulances, helicopters, and hospitals and allows communication between system components at any time; for example, a paramedic on-scene with a patient in Western Maryland can speak directly with a local emergency department physician or, if needed, obtain medical consultation from a specialty center in Baltimore. All local 9-1-1 centers are staffed with emergency medical dispatchers (EMDs) certified by MIEMSS.
The Emergency Medical Resources Center (EMRC) coordinates medical consultation between medic units and hospital physicians. Medic units requesting a medical consultation can call EMRC, whose operators patch them through to a receiving hospital. While en route to the receiving hospital, prehospital clinicians transmit patient information to an on-line hospital physician, who may direct the prehospital clinician to follow specific medical protocols and may approve additional treatment.
Located within the same communications facility, System Communication Center (SYSCOM) operators work with a Maryland State Police (MSP) Duty Officer to dispatch and coordinate all MSP medevac missions. With its fleet of 10 helicopters based in seven sections across the state, the MSP Aviation Division transports over 1,800 critically injured or ill patients each year.
For more information about MIEMSS, please visit www.MIEMSS.org. 
Carole A. Mays RN, MS
Director, Trauma & Injury Specialty Care Program
MIEMSS