On the September 22nd edition of Midday Maryland, host Elsa M. talked with Holley Farley – Nursing Coordinator for Clinical Quality at JHH; Emily Middleton – Safety Data Coordinator at Sidney Kimmel Comprehensive Cancer Center at JHH; and Afton Jamerson – Trauma Program Manager at Johns Hopkins Bayview Medical Center, about Falls Prevention Day and ways to protect yourself and your loved ones in the home.
What is Falls Prevention Day?
Falls Prevention Day is a national health campaign observed on the first day of fall to increase awareness around falls health and injury prevention. Falls Prevention Day is sponsored by the National Council on Aging (NCOA) and FallFree. 
In 2020, the NCOA launched their new digital "Falls Free CheckUp" Questionnaire. Users can answer the 12 questions to learn more about injury prevention tips and your risk of falling. Click on the Falls Free CheckUp link above to be directed to the NCOA site. 
How prevalent are falls?
Every year, almost 1 in 3 older adults will fall and less than half of those will tell their doctor.
There has been an increase in fall-related deaths since 2007.
Recent CDC data shows over 13,000 hospitalizations for fall related injuries, over 70% of those were older adults.
Most common injuries include hip fractures and brain injuries. 

Falls are not an inevitable part of aging. Certain conditions or risk factors can make it more likely a person will fall.

People tend to think of falls as accidents, but many are preventable.
*from the Centers for Disease and Control and the Maryland Department of Health and Mental Hygiene
How can you protect yourself and your loved ones from falling?
Falls can happen to all of us and they can be prevented!
Follow these tips to lower your risk of falling in the home:
Keep floors clutter free! Remove items you can trip over (books, shoes, etc.) from the stairs. 

Keep items that you use frequently in lower cabinets, so you don't have to use a step stool. 

Wear well-fitting shoes with good support. 

Install handrails on all stairways. 

Make sure walkways are well lit. 

Remove small throw rugs from your home. Or use double-sided tape to secure them. 

Install grab bars in the bathroom – next to and inside the tub and next to the toilet. 

Use non-slip bath mats in the bathtub/shower floors.
Follow these overall health tips to reduce your risk of falling: 
Tell a healthcare provider right away if you or a loved one has fallen, worried about falling, or seem unsteady. 

Keep an updated list of medications. Discuss any side effects with your doctor. 

Keep moving! Enroll is an activities class that improves balance and strengthens legs. 

Have your eyes checked to ensure clear vision.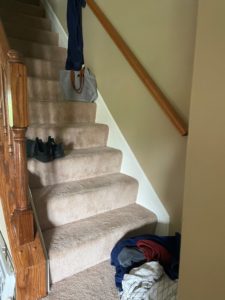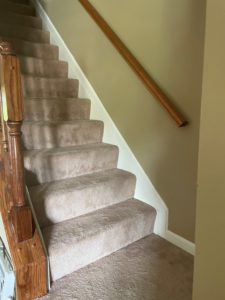 To read the Midday Maryland story, click here. 
Thanks to Holley, Emily, and Afton for representing us on Midday Maryland and talking about Falls Prevention.