Parenting is hard for a lot of reasons. I recall when I first started working in the field of child passenger safety in the mid-90s how challenging it was to get car seats installed properly in most cars. At that time, I was not a parent and my youth and agility (relative to now!) helped with pulling the seat belts through the car seat belt paths to get a secure fit despite some poor car seat and vehicle designs. Then in the early-2000s, I had my own two children, and the car seats' design had advanced, making it easier to use the seats. But then I discovered that the "terrible twos" often included your child going rigid as you tried to lower them into their car seat and harness them snugly. The car seat manuals didn't give tips for what to do about that….
As my children grew, we went through a number of different car seats and types of restraints. When we hit booster seat ages/sizes, I liked the simplicity of my children climbing into their own booster, and maybe even buckling themselves in. However, I didn't like knowing that my youngster could easily crawl out of a belt-positioning car seat while I was busy driving, and then be poorly positioned and restrained if we were to crash. But they knew the dire consequences their safety-conscious mom would inflict if they rode in the car unrestrained!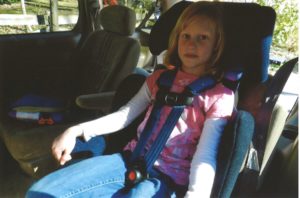 Today's child passenger safety guidelines make it clear that children need to stay in each car seat stage longer. It is not enough to have your child reach the minimum height, weight or age limit for the next seat—they need to be ready behaviorally as well to advance to the next stage.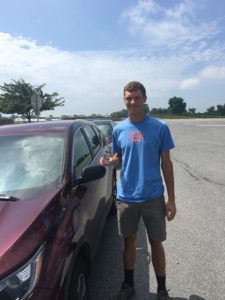 Fast-forward to this year and now both my children are drivers. And I again feel a lack of control… my kids are very aware of the importance of buckling up and I believe they do it consistently, but I'm not so sure they are avoiding all the temptations that can make a driver "distracted." Very few U.S. drivers appear to be that strong.
And I cannot control their passengers and their behavior, which certainly influences a driver's safety. I can only hope that the safety lessons discussed and the driving and riding behaviors demonstrated by me as a parent for the past 20 years were fully absorbed by my kids.  And that they are also lucky to only encounter other safe drivers. 
Blog Summitted by:
Susanne Ogaitis-Jones, MSPH, CHES, CPST/I
Coordinator, Child Passenger Safety & Occupant Protection Healthcare Project, Maryland Institute for Emergency Medical Services Systems