"The only thing more tragic than a death from bleeding … is a death that could have been prevented". The booklet, published by the American College of Surgeons to educate the public about the Stop the Bleed principles, ends with this quote and I can safely say no truer words have been said in the world of trauma. Simple tools deployed in simple steps can make the whole difference between losing a life or a limb or saving them. When the medical community realized that this was within the grasp of the public, the potential to make a real change even before the patient hit the door of the emergency room was limitless!
I vividly remember the case of the young 25 year old who was ejected from his car after a horrific accident. He arrived to the emergency room with a very severe left leg injury that appeared to go very deeply into his thigh. He had two tourniquets on. I remember asking the paramedics why he had two and being completely amazed when they told me that they just added a second tourniquet to reinforce the first one that was on. A fellow driver, who was a previous firefighter, had a stop the bleed kit in his car and stopped on the highway when he saw the wreckage. He applied the first tourniquet because of the amount of blood that was on the scene. The paramedics added theirs for reinforcement even though the bleeding was very well controlled. We took the tourniquet down in the ER, only very briefly, as we encountered immediately what we would call in the trauma world "audible bleeding"! This young man was rushed to the operating room and his femoral artery, which was severed, was repaired with a graft. He walked out of the hospital 6 days later. That tourniquet made all the different between him losing his leg or keeping it. Even worse, he could have lost his life from the continued hemorrhage were it not for the quick wit of a fellow driver with the proper tools and training.
These are the saves that make us believe in Stop The Bleed. I have three kits in my car. One on the driver's side, one on the passenger's side and one in the trunk. It gives me a sense of security that I can always intervene and help in some way even if I don't have my fancy surgery tools. The Stop The Bleed training is available to all and essential. Go to www.bleedingcontrol.org for more information on how you can make a difference. Visit our Stop the Bleed Page for a list of the Trauma Centers near you offering Stop the Bleed classes.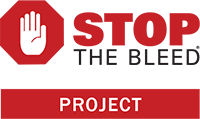 Thank you Dr. Tannous for sharing your Stop the Bleed Story for our Maryland TraumaNet's Stop the Bleed Day Blog. 
Blog Submitted by:
Anthony Tannous, MD
Assistant Professor of Surgery
University of Maryland School of Medicine
Trauma Medical Director
University of Maryland Capital Region Health