For most people, September is associated with kids catching the bus for school, college students settling into dorms and apartments, and roadways once again congested with walkers, bikers and drivers, all trying to be somewhere by a deadline. Consequently, September is a great time to re-assess traffic safety precautions.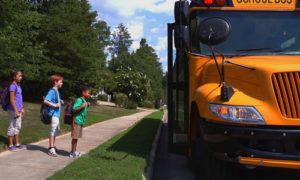 Children riding on school buses can stress parents and the kids, but if you look at the data, full-sized school buses are the safest mode of transportation. Less than 1% of all traffic fatalities involve children on school transportation vehicles. Buses' high visibility, large mass, high crush standards, and "compartmentalization" of kids in their seating space equate to buses being about 70 times safer than traveling by car!  However, children are at greater risk when approaching a bus or getting off one.* It is critical that drivers, pedestrians and school bus riders all know what to do to keep everyone safe.
NHTSA has some great tips for this.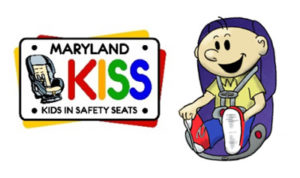 Many caregivers are driving children to and from school or daycare. While this is statistically less safe than kids riding on buses, there are things to do to reduce the risk. Everyone must be properly buckled up, such as adults and larger children in seat belts, or younger children in car seats and boosters. If you need help with your car seat or booster, Maryland Kids in Safety Seats (410-767-6016) can provide free individual consultations by appointment, or you can call their hotline and ask general questions. School drop off/pick up times can be a pressure cooker, but drivers must resist the urge to drive fast and then quickly unload their kids from the car in the school drop off lane, as rushing often correlates with higher risk. Make sure everyone stays buckled up in their seat until the vehicle comes to a full stop. Work with the school administration or safety committee to ensure a safe drop off procedure for everyone.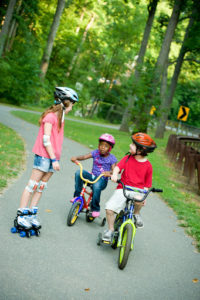 Bicycles, skateboards and scooters can be easy and quick ways for many to get around in good weather, and there are simple things to keep your ride safe. Always wear a correctly-fitted helmet (including fastening the chin strap); wear reflective clothing; ride in the same direction as traffic, preferably in a bike lane;  follow traffic signs and signals; and, never use electronics while riding, as your full attention is needed for biking and hearing/seeing around you.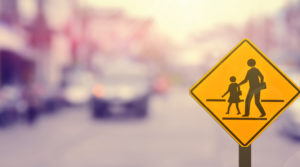 September's weather is often ideal for outdoor walking, whether to school, to a playground, or to the pickleball courts. To make walking safer, use the sidewalk whenever possible; if there isn't a sidewalk, walk on the edge of the street facing traffic. Only cross streets at marked crosswalks, and look both ways before crossing. Avoid using electronics when walking in streets so you can hear cars or bikes.  Wear bright or reflective clothing, and have reflective surfaces on pet leashes too. 
Preparing yourself and your family to be safe on roadways might take a little preparation, like getting a bike helmet or scheduling a car seat appointment, but mostly it takes a little thinking about the risks and following sensible guidelines.  Then you can get outside and relax more, and enjoy yourself!
Blog Submitted by: 
Susanne Ogaitis-Jones
Coordinator, Child passenger Safety & Occupant Protection Healthcare Project, MD Institute of Emergency Medical Services Systems