November is the month to celebrate and bring awareness to injury prevention. In fact, National Injury Prevention Day is celebrated on November 18 and is one of the newer days of recognition, only in its second year. With many injury prevention topics having their own day or month of recognition, November 18th is the day for awareness of all injuries and violence. 
The Injury Free Coalition for Kids (IFCK) recognized that kids are dying unnecessarily and that through education, safety practices, equipment and implementation of stronger legislation (Dr. Barbara Barlow, Executive Director and Founder of Injury Free Coalition for Kids) that these deaths can be prevented. This is where the idea for a National Injury Prevention Day started.
IFCK is among the country's most effective injury prevention programs. IFCK consists of injury prevention programs across the nation that are hospital-based, community-oriented programs whose efforts are anchored in research, education, and advocacy. The coalition is made up of more than 42 sites across the nation. 
The most interesting part about the coalitions sites is that they are run by physicians who work to empower diverse populations who live in urban and rural environments to address the injuries most prevalent in their communities.
National Injury Prevention Day (NIPD) is held each November 18th. On this day IFCK and the country's leading injury and violence prevention organizations will join forces for the 2nd annual NIPD. This day is designed to raise awareness about the burden or injury, violence, and the need for change. On November 18th, organizations around the nation will wear green, host various events, media campaigns, outreach, and research to honor this very special day. One of the most exciting parts about the day is that the nation will "Shine a Green Light" on Injury Prevention. Green – a color that often is associated with safety and represents peace, productivity, growth and positive outcomes – will be seen throughout the nation. Specifically, in Baltimore, the M&T Bank Stadium (Ravens), Camden Yards (Orioles), Johns Hopkins Hospital Dome, Baltimore City Hall Dome, Royal Farms Arena, Sinai Hospital, and Johns Hopkins Bayview – Kimmel Cancer Center will be shining a green light. In Annapolis, the Governor's Mansion will shine a green light too! Follow #BeInjuryFree to see all the different sites across the nation light up green and for injury prevention tips!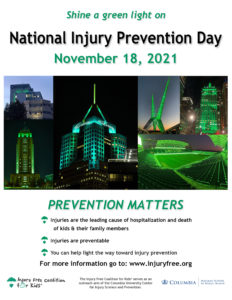 What would National Injury Prevention Day be without sharing some injury prevention tips!
Did you know that injuries are the leading cause of hospitalization and death of kids and their families? Did you know that injuries are preventable?
How can you help to make a difference and decrease preventable deaths?
Check out Injury Free Coalition for Kids' website for links to all safety topics – ATV, Fire, Home, Playground, Teen Driving, Water, Daycare, Firearm, Motor Vehicle, Poison, Sports, and Wheel Sports. Sounds like a lot?  It is easy to forget that injury prevention should take place in all aspects of our daily lives.
For example, fire safety.  Did you know that the leading causes of house fires are cooking, heating equipment and electrical problems? 
Take this opportunity to talk to your family about safety in the kitchen.

As the weather starts to cool, more and more people will resort to heating equipment in homes. Make sure you are using devices that will automatically turn off if flipped over, never pile things on heating blankets or other heating elements.

In the day of technology, many people will overload an electrical outlet because of some many devices to charge up, this can lead to house fires.
Did you know that more than 60% of home fires take place in homes without smoke alarms or with nonworking smoke alarms? Did you know that 50% of fatal injuries in house fires are to preschool children and adults over age 65? 
Make sure you have a working smoke alarm on each floor and outside of all bedrooms, and in the basement.

Test your smoke alarms regularly and change the batteries every 6 months.

Make sure all family members living in a home understand and have practiced safe escape routes and where the safe meeting place is in the event of a fire.
As you can see, there is a wealth of information on just this topic, so go and check out the Injury Free website to day to learn how YOU can make a difference in the injury prevention of all children.
Blog provided by:
Kelly Llewellyn
Injury Prevention Specialist
Meritus Health, Hagerstown, MD