Happy 100th year Anniversary to National Fire Prevention Week, which is celebrated this month October 9-15. In true standard fashion of TraumaNet blogs, we are choosing to celebrate this week with reminders you can use today and all year to help keep you, your family and pets, and homes safe!
As the author of many blogs over the past year for TraumaNet, I thought I would start by sharing my "fire story." On Easter Sunday, 2021 around 9 pm, I woke to our Goldendoodle, Melvin "jumping" on my head, then I heard the pounding on my front door, a neighbor franticly screaming, "Your house is on fire, your house is on fire!" Melvin had heard the crackling of the fire burning outside and my neighbor, who was driving home, saw the flames. The chaos of the moment woke up my sleeping daughter upstairs, and we quickly left the house and called 911. A fire, which has started at a shed next door, was spreading across the fence and up the side of my house.  I remember calling 911 back two more times to say…" it's getting worse, the siding is melting off my house."  Despite hearing the sirens, it seemed like an eternity for the fire departments to arrive, put out the fire, and ensure the integrity of our home was not in danger. Our home is situated close to a fire hydrant and our closest fire departments are mere minutes from our home. We were blessed by the quick response that night of the dispatchers and fire departments who responded. Though it has been over a year, the impact of having a fire still impacts our family to this day. The lessons learned from that event are that we cannot prevent all fires, but that doing everything we can to prevent one is the next best thing, so join me as we review some of the top fire prevention tips!
This year's Fire Prevention Week's theme is "Fire Won't Wait. Plan your escape."
Make sure your plan meets the needs of all your family members, including those with sensory or physical disabilities.

Smoke alarms should be installed inside every sleeping room, outside each separate sleeping area, and on every level of your home. Smoke alarms should be interconnected so when one sounds, they all sound.

Know at least two ways out of every room, if possible. Make sure all doors and windows open easily.

Have an outside meeting place a safe distance from your home where everyone should meet.

Practice your home fire drill at least twice a year with everyone in the household, including guests. Practice at least once during the day and at night.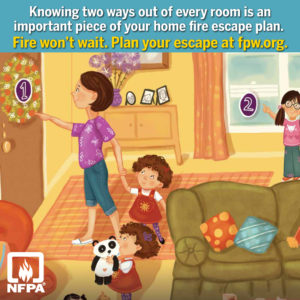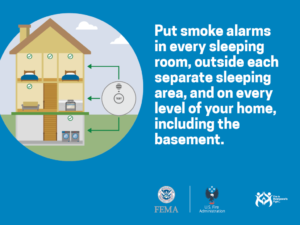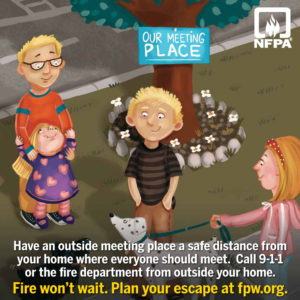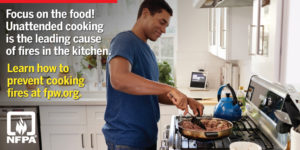 Keep your home safe by following these tips! 
Always have a fire extinguisher available.

When cooking, stay in the kitchen when frying, grilling, or broiling food. If you must leave, even for a short time, turn off the stove. Teach those who cook at your home to smother a grease fire, do not add water. Make sure pot handles are turned inwards, and are not left hanging over the edge of the stove.

Give space heaters space: Keep fixed and portable space heaters at least three feet from anything that can burn. Turn off heaters when you leave the room or go to sleep.

Smoke outside: Ask smokers to smoke outside. Have sturdy, deep ashtrays for smokers.

Keep matches and lighters out of reach: Keep matches and lighters up high, out of the reach of children, preferably in a cabinet with a child lock.

Inspect electrical cords: Replace cords that are cracked, damaged, have broken plugs, or have loose connections.

Be careful when using candles: Keep candles at least one foot from anything that can burn. Blow out candles when you leave the room or go to sleep.
Help us to honor the 100th anniversary of Fire Prevention week by ensuring your home is safe and prepared in the event a fire does occur. Lastly, thank your local fire departments for always being ready-just in case a fire does occur. I promise you…you will want to see them! 
Thank you to Kelly Llewellyn from Meritus Health for submitting injury prevention blog posts over the last year!
Blog Submitted by:
Kelly Llewellyn, DNP, RN
Injury Prevention/EMS Specialist
Safe Kids Washington County Co-Coordinator
Mertius Health