With the COVID-19 pandemic on the rise, many are deciding whether to host their yearly Thanksgiving gathering with friends and family or to host a small Thanksgiving gathering with just the people they live with. To keep yourself and your family safe this Thanksgiving: remember to wear a mask correctly, stay 6-feet apart from those who you don't live with, and wash your hands often.
Consider Alternatives to Having Thanksgiving with Friends & Family:
Have a virtual gathering. (Zoom has no time limit on Thanksgiving Day!)

Watch the televised parades, sports games, and movies on Thanksgiving Day with those you live with.

Participate in online "Black Friday" shopping, to avoid the crowds.

Safely prepare Thanksgiving meals to leave on porches of family members or neighbors.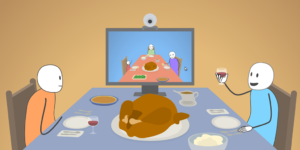 Attending an In-Person Thanksgiving Gathering?
Consider bringing your own food, drinks, silverware, and plates.

Always wear your mask, unless eating or drinking.

Use single-use items, such as dressing or condiment packs.

Consider having a small gathering outdoors, weather permitting.

Set expectations of the gathering with guests ahead of time.

Clean high touch surfaces often.

Open windows for fresh air to circulate.
Cooking for Thanksgiving?
Did you know that Thanksgiving is the leading day of the year for home fires involving cooking equipment? Follow these tips to keep everyone safe in your kitchen during Thanksgiving:
Keep a 3-foot kid-free zone around the oven & stove.

Never leave your stove unattended when cooking.

Avoid wearing loose clothing that could catch fire.

Turn pot handles to the back of the stove.

Keep the kitchen floor clear of items.

Keep knives out of children's reach.

Test your smoke alarms.

Do not hold a child while cooking.

Keep turkey fryers outside.
If you get burned, apply cool water to the burn for 3-5 minutes, cover with a clean, dry cloth, and seek medical assistance, if needed.
Need an idea to keep your kids out of the kitchen? Have games, puzzles, and books to keep them busy. They can still be part of the "Thanksgiving Recipe," just outside of the kitchen.
Driving Safely during Thanksgiving Holiday Travel
Thanksgiving is one of the busiest traveling times of the year. In 2017, there were 365 passenger vehicle occupants killed in car crashes on Thanksgiving Day across the nation (NHTSA, Traffic Safety Marketing). Driving distracted, drunk, or under the influence is a leading cause of driving accidents. The holiday season can be stressful and tiring, but drowsy driving can be prevented with adequate sleep. Drive safely this Thanksgiving by:
Putting your phone down while driving and pay attention to the road.

Having a designated "texter" to respond to any calls or texts you receive.

Pulling over and attending to children's needs.

If you have been drinking or are under the influence, call a ride-sharing service to ensure a safe ride home or have a designated driver.

If someone you know has been drinking, do not let them drive.

Always wearing your seatbelt.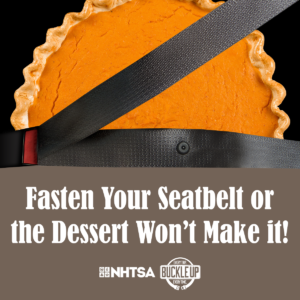 Holiday Decoration Safety
You've made it through Thanksgiving and now it's time to decorate for the holiday season! Many families begin to decorate the day after Thanksgiving, sometimes even before!
Decorate with your kids in mind, keep breakable decorations up and out of reach from children. Have your children decorate the bottom half of the tree with non-breakable ornaments.

Water your tree regularly. Dry trees can pose as a fire hazard.

Keep candles 12 inches from flammable items. Be sure to blow them out before leaving the house or going to sleep.

Consider using battery-operated candles.

Check your Christmas lights for any frayed or exposed wires.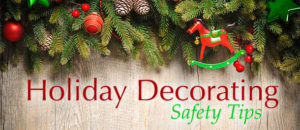 Creason Schafer, BS, CHES, CPST
Community Outreach Specialist in Injury Prevention
Johns Hopkins Children's Center