LifeBridge Health's Sinai Hospital presents "Treating Trauma: Care Across the Continuum" virtually!
 Trauma CEs will be provided
4.75 CEs have been approved for RNs and EMS Personnel 
CEs provided by American Nurses Credentialing Center's (ANCC) Commission of Accreditation
In this course, local and national experts provide innovative and evidence-based presentation on current topics in trauma care, including pre-hospital, inpatient and post-discharge phases.
When: Monday, September 27th 2021, 10:00 am to 3:30pm 
Where: Virtually 
Cost: Free
Register:
*Registration ends on Thursday September 23rd at 11:59pm*
LifeBridge Health Team Members register on HealthStream 
Others register by clicking the button below to be directed to the EventBrite Event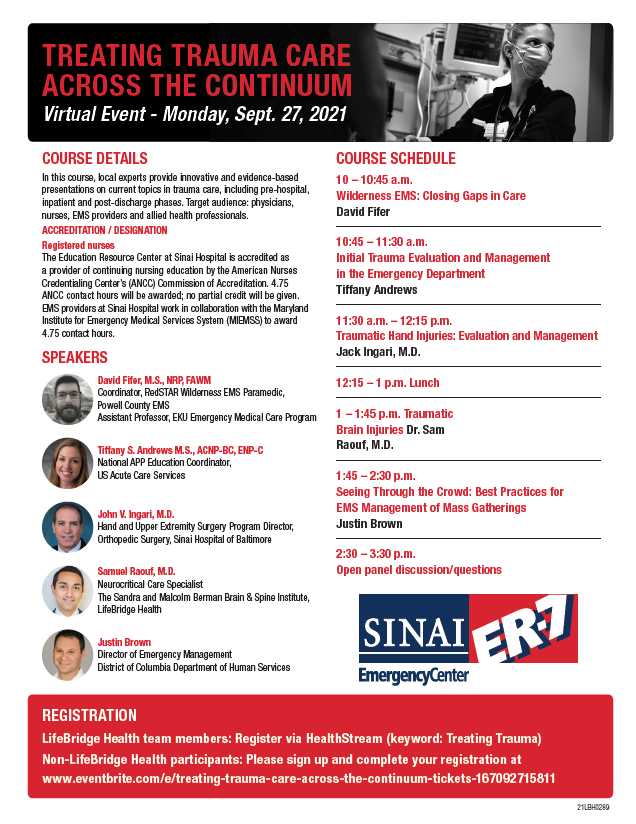 Topics include:
Wilderness EMS: Closing Gaps in Care  
by David Fifer, MS, NRP, NRP, FAWM – Coordinator, RedSTAR Wilderness EMS
(10 – 10:45am)
Initial Trauma Evaluation and Management in the Emergency Department 
by Tiffany Andrews, MS, ACNP-C, ENP-C – USACS National APP Education Coordinator 
(10:45 – 11:30am)
Traumatic Hand Injuries: Evaluation and Management
by John V. Ingari, MD – Hand and Upper Extremity Surgery; Program Director, Orthopedic Surgery, Sinai Hospital 
(11:30am – 12:15pm)
Traumatic Brain Injuries
by Samuel Raouf, MD – Neurocritical Care Specialist, The Sandra and Malcolm Berman Brain & Spine Institute, LifeBridge Health 
(1 – 1:45pm)
Seeing Through the Crowd: Best Practices for EMS Management of Mass Gatherings 
by Justin B. Brown – Director of Emergency Management, District of Columbia Department of Human Services. 
(1:45 – 2:30pm)
Open Panel & Discussion 
(2:30 – 3:30pm)
Questions?
James Gannon, Trauma Program Manager at Sinai Hospital