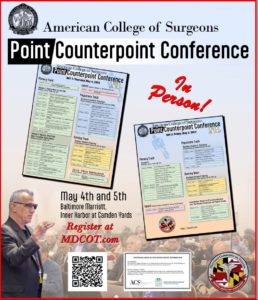 The Maryland Committee on Trauma is honored to host the 40th Annual Meeting of Point/Counterpoint – in-person!
Thursday, May 4th – Friday, May 5th 2023
Baltimore Marriott Inner Harbor at Camden Yards 
110 S. Eutaw Street, Baltimore, MD 21201
This two-day program will focus on the state-of-the-art management strategies from common clinical issues, as well as challenging and controversial topics. Back by popular demand, Point/Counterpoint will again offer afternoon breakout sessions tailored to the specifics of a wide range of "hot button" trends and relevant topics. This choice of sessions will appeal to a wide variety of participants – nurses, advanced practice professionals, and physicians. 
On Thursday, The Charles C. Wolferth, Jr., MD, Memorial Lecture will be delivered by Col. John B. Holcomb, MD, FACS, US Army Retired.
On Friday, LJ Punch, MD, FACS, will present the Sharon M. Henry/Maryland COT Lecture.
Accreditation and CME Credits 
The American College of Surgeons is accredited by the Accreditation Council for Continuing Medical Education (ACCME) to provide continuing medical education for physicians. 
16.75 CME credits will be provided for this activity.  
Physicians
$450.00 – full conference
$225.00 – one day
Non-Physician
$175.00 – full conference
$135.00 – one day